14 July 2009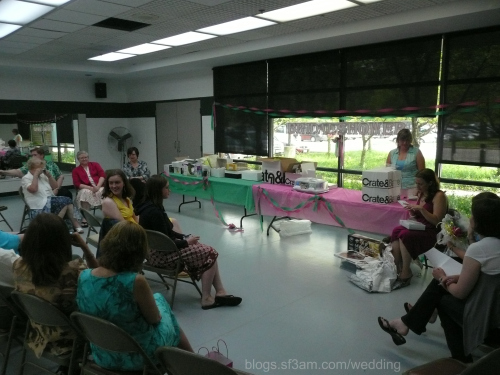 Last weekend Aunt Margaret and Aunt Ann threw Jessica a bridal shower out in Park Ridge. I stopped by at the end, and it looked like everyone was having a really good time. When I got there Jessica was finishing up opening gifts–which there were lot of.
After the shower, Jessica filled me in on how much she enjoyed the whole thing. Lots of friends and family were on hand for games and prizes, a great meal by Uncle Mike ("just right for the occasion," Jessica said), and then the long parade of great gifts, including a bird-shaped coffee set from Aunt Margaret that we both love, a nice new phone set from Mom, a really cool pitcher from Ellen, and a bay leaf green mixer with juicer attachment from Grandma. And I remember Jessica saying that she loved what Katie gave us and mentioned a few other gifts too but there are too many for me to remember right now!
Thanks so much to everyone!